No-Fail Christmas Gifts for Book Lovers
You guys… there's twelve days until Christmas. I'm pretty sure before I blinked the last time, it was Halloween. How exactly did this happen?
I will admit, I'm a bit ahead of the game this year on Christmas presents–I started on Black Friday and finished up the first week of December–but only because I promised my kidlets that we would restart my grandmother's annual cookie baking binge and pretty much inundate everyone we knew with traditional and not-so-traditional cookie boxes. Speaking of which, I guess I better get started on that…yeah.
Anyway, if you're a procrastinator like I've been for the last five years, you're probably wondering what to get the reader in your life beyond an Amazon gift card. Or, yourself. Because let's face it, once you see some of these things, you're going to want to keep them all.
Bitty Book Ornaments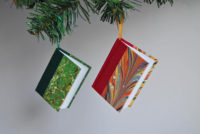 Aren't these cute? The adorable ornaments pictured here from Guteandberg on Etsy  are real, live, write-on-able books (it's a word, I'm making it a word) made with real book cloth and hand-sewn paper. Surprise a book lover with a tiny mini ornament filled with their favorite book quotes or a personal note. Or buy several to make a bitty book garland. If these colors aren't your speed, there are several other sellers on Etsy that make similar items.
Litographs Book Swag
Litographs has been around for a while with a unique product: t-shirts,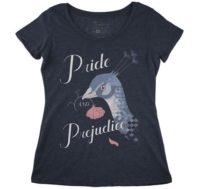 scarves, totes, and posters that contain the entire text of favorite books in miniscule print. Until recently, the inventory was limited to classics like Jane Eyre, The Count of Monte Cristo, and Hamlet. Now, they've expanded their designs to include modern favorites like Outlander, Wonder, and Throne of Glass. As if that's not enough, the new Originals line reimagines illustrations of classic books in a new way. The Pride and Prejudice one in particular is stunning. The biggest problem here is not finding something for the book-lover in your life, but not taking all the rest home for yourself.
Book Cozies
Guys, I don't know how this happened, but this is totally a thing. I can't log onto Facebook or Instagram without catching a glimpse of one of these adorable little book cozies, meant to protect your precious literature while in a purse or backpack. Seems like the favored vendor is TheCozyLifeShop on Etsy, but she tends to sell out of inventory very quickly, so you might do a quick search and see if anything else catches your fancy.
Book of the Month Club
"Of-the-month" clubs as Christmas gifts are the punchline of bad, sarcastic jokes, but I'm pretty sure that any die hard reader is not going to be mad at you if you present them with a subscription to the Book of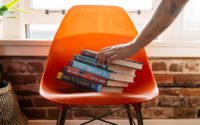 the Month Club. Each month, the subscriber or giftee gets to choose from a list of choices so they're sure they're getting something they'll love. Or they can defer their choice and put the membership on hold for the month. These are good, popular books in hardback at a significant discount off of list price. Books are never a bad gift–even better when you can pick them yourself. This particular club has been around since 1926, but if you want your book to come along with other book-related swag, check out this list of book subscription boxes.
Handmade Ribbon Bookmarks
These are ideal for those long-distance gifts that need to be sent quickly and easily through the mail, or those people who don't have a place to receive larger boxes. What reader wouldn't love a handmade bookmark? There are plenty of variations, but my favorites are these pretty ones by Etsy sellers Pink Prairies, PaperExpressionCo, and StinsonPaperCo.
There you have it…ideas for every bookish member on your shopping list. Happy browsing!
Tags: book cozies, book lover, Christmas gifts, Litograph, The Cozy Life