Carla Recommends: The Words Between Us by Erin Bartels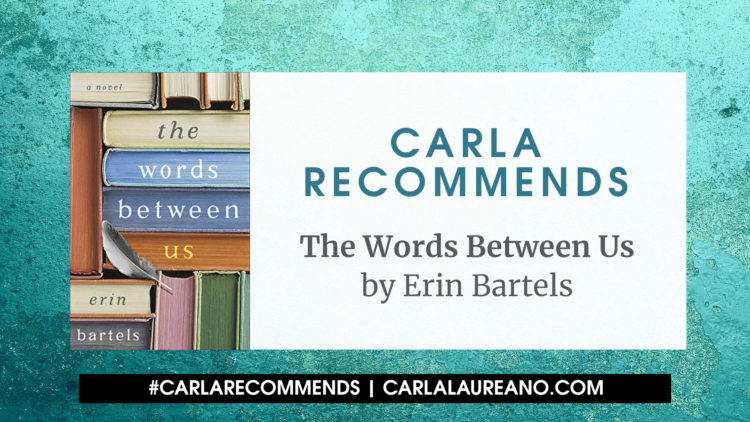 I've been looking forward to this book since I first started seeing the buzz over the summer. And I'll admit, it was not at all what I expected. Sometimes that can be a bad thing, but in this case, it's very good. While I love all the "homage to books" novels, they can sometimes be a little giddy and girlish, so I was thrilled to find some depth and heft in this one.
What It's About
Robin Windsor has been hiding out from the world since she was a child, avoiding the speculation that went along with her notorious politician-turned-criminal parents. Now that her bookstore is in jeopardy of closing, she has to step out of her comfort zone and rely on others for the first time in her adult life. Oh yeah, and the love of her life–whose heart she broke years ago–is suddenly sending her books filled with meaning and memory.
What I Loved
Excellent, smooth, and evocative writing makes this an easy read despite the sometimes heavy subject matter. Dual timeline can either be great or go really wrong for me, and in this case, I think it works well. I particularly enjoyed younger Robin and her book-centered relationship with Peter; in some ways this "flashback" timeline feels more real than the present day thread.
What I Didn't Love
This is another one of those books where I struggle to think of something critical! It's just really well done. I will say that this is a book written in a minor key. (Yes, I think in musical terms sometimes.) It's not a criticism, per se, but the moody nature of the storyline means it's not something I can immerse myself in for hours at a time.
Who Should Read It
Anyone who loves books and good writing and believes in the power of words. This is literary/general fiction with a very fine (almost non-existent) faith thread, so I think it could potentially reach a wide readership, not just Christian fiction fans.
Tags: Erin Bartels, The Words Between Us