Carla Recommends: The Other Mrs. by Mary Kubica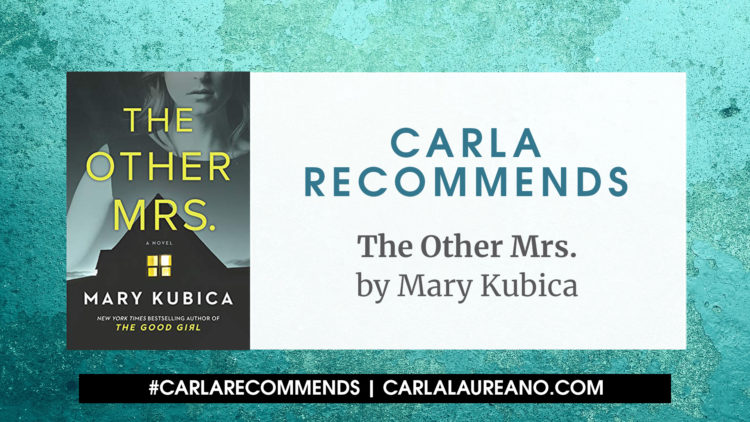 I was fortunate enough to snag an ARC of Mary Kubica's new book, The Other Mrs., when I was at the Mountains and Plains Independent Bookseller's Association (MPIBA) conference last month. And to be honest, I was not anticipating the read I got. Her last book, When the Lights Go Out, was creepy and atmospheric but a bit of a hit-and-miss read for me. I liked it, but I didn't love it. I'm pleased to say that this new novel has fully won me back into the Mary Kubica camp. You'll want to put it on your wish list so you don't miss its release on February 18, 2020.
What It's About
A couple has just moved from Chicago to a coastal Maine island when their neighbor is brutally murdered. Secrets abound in this town, not just surrounding the death of the husband's sister and her daughter's possible role in it, but also between the couple themselves.
What I Loved
Mary Kubica is a master of atmosphere and misdirection. I had figured out one of the key elements early, but I wasn't sure if it was a result of poor writing or if she meant me to do so. (She meant me to do so.) Even with all the elements that I predicted, I got blindsided by the twist ending. Safe to say what I thought was going on in the background was not what was going on. (I did, however, correctly predict the climax and how it was going to resolve… I think it's a writer thing.)
What I Didn't Love
I have very little bad to say about this book. It's tightly plotted and written, with no extraneous details. The tense tone did make me edgy and irritable… a testament to Kubica's writing skills but not so great for anyone who tried to interrupt me while I was reading. This is not a happy book.
Who Should Read It
Anyone who loves domestic thrillers will find a lot to love about this book. In particular, if you've enjoyed The Last Mrs. Parrish, Sometimes I Lie, The Good Widow, or Bring Me Back, you're going to like this one. About 30% of my reading material falls into the thriller/suspense genre, but it's rare that I think about the book once it's over. This is one of the rare exceptions.
Tags: Mary Kubica, The Other Mrs.