Carla Recommends: Recursion by Blake Crouch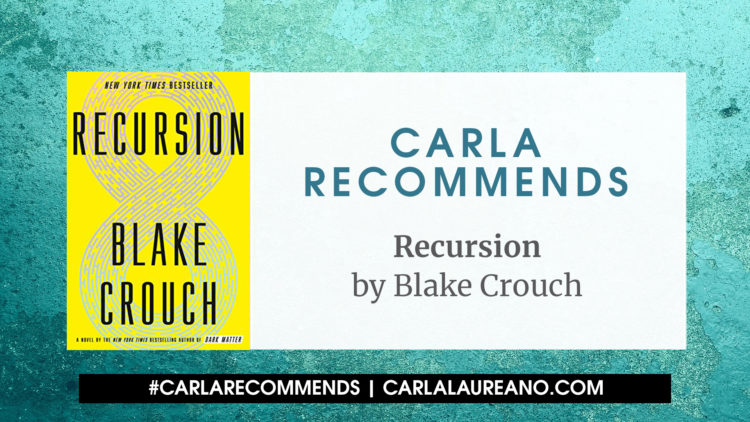 Welcome to this new feature on my blog, Carla Recommends. To be honest, this is just the #2MinBookReview in written format, since I've mostly only reviewed books that I can recommend. However, I've been so busy this summer that I've been living in leggings with no makeup and messy hair (why oh why can't a messy bun be a thing when you have a short bob???)… and while you know I'll sometimes jump on Facebook Live in workout wear, I'm really not sure I want to regularly commit this version of myself for posterity on YouTube.
What It's About
A detective's investigation into a mysterious disease dubbed "False Memory Syndrome" leads him to a scientist whose research has had unintended consequences on the very fabric of space and time.
What I Loved
Blake Crouch knows how to craft a page turner. Interesting characters, tight writing, and twisty plots hold my attention from start to finish…something that's not so easy to do these days. When I start one, I know I need to cancel all appointments, order in dinner, and stock up on concealer for those dark circles the sleepless night is going to cost me… I'm not putting it down until it's done.
What I Didn't Love
The story seemed so unique when I began, but as we began to dig deeper into the mystery behind False Memory syndrome, it started to feel a bit like an amalgam of recent science fiction movies. It felt a bit like what you'd get if you blended The Time Traveler's Wife with the Tom Cruise sci-fi romp, Edge of Tomorrow (also billed as Live, Die, Repeat) and bits of a few disaster movies for good measure. Whereas I'd been blown away by the originality of Dark Matter, I was able to anticipate some of the twists in this book before they happened.
Who Should Read It
Crouch's books are the best kind of science fiction: accessible to the general reader, even those who don't typically enjoy the genre. If you like to be taken on a thrill ride of twists and turns, you won't be disappointed…even if like me, you start to anticipate the curves before you get there.
Tags: Blake Crouch, Recursion