A Writer's Life: The Good, The Bad, and The Hilarious with James L. Rubart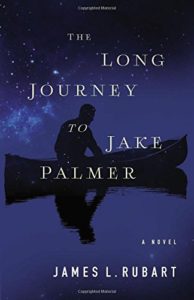 Please join me in welcoming today's guest, multi-published and award-winning novelist, James L. Rubart. Every time I turn around, Jim is winning another award for one of his visionary novels–and they're well deserved. In addition to being a critically acclaimed author and in-demand speaker, he also remains one of the kindest and most personable writers in the CBA. His latest novel, The Man He Never Was, releases tomorrow and I for one am impatiently waiting for this one to arrive on my doorstep! I'm delighted to have him here today talking about the fun, funny, and downright painful parts of his writing journey.
The Good, the Bad, and the Hilarious Things About the Writing Life
I'd dreamed about becoming an author since 7th grade, so when it happened, I already had a stockpile of images pinging around my mind of what it would be like. It turned out to be better than I thought it would in some ways, worse in a few others, and overall, far funnier. I'll touch on the good and the bad briefly, then get to a few stories I think are hilarious.
The Good: Almost too numerous to count, but at the top would be:
• Seeing your biggest dream come true and realizing all the hours and rejection were worth it
• Meeting your author heroes and in some case becoming dear friends with them
• Getting paid to do something you'd do even if you never made a dime
The Bad:
• Every time you start a new story, wondering if you can do it again
• Scathing reviews
• Sacrifices. What do you mean I don't get to binge that show on Netflix! I have to write instead?
The Hilarious:
I was at a writing conference about a year after my first novel, Rooms, came out. During one dinner, I introduced myself to the lady next to me and we chatted about recent books we'd read.
She said, "I just finished this novel that got a bunch of great reviews, and I guess it was okay, but wow, too many pop culture references, so it didn't really work for me. I finished it, but I probably wouldn't recommend it, you know?"
"What's the name of the novel?"
"Rooms."
I nodded as I felt a slight smile grow in the corners of my mouth. Her eyes widened. I smiled wider.
"No, no, no."
I grinned. "Yes. Yes. Yes."
I laughed and told her I wasn't offended and we had an extremely pleasant conversation the rest of the meal. When I saw her a year later we laughed about it, and I thanked her for giving me a wonderful tale to tell.
Story # 2
A few years back I was signing books when a gentleman came up to me and said, "I'm going to buy a copy of your novel. If I do that, will you sign it?"
"Of course."
I asked if he was a writer. He said he was trying, nothing published yet, but he'd keep pursuing the dream. I encouraged him a bit and after I'd finished he bent closer, locked his eyes on mine and said, "Because you've been kind to me, I'm going to do you a favor."
"Oh?"
"I'm going to read your book, then make notes on every page of what you did wrong, and send it back to you."
It was all I could do to keep from bursting out in laughter. I thanked him, and about six months later I got an email from this man asking for my address so he could send me his wisdom. Funny, I somehow misplaced that email.
Story # 3
Not a funny story, but one that shows how playful God can be with our dreams. Back in 2000, before I'd written a word on my first novel, I was at a small seminar where the leader asked each of us in the room how we would know we were successful. "When do you pop the champagne cork?"
I said, "I'll pop the cork when someone recommends my own novel back to me."
Fast forward to 2015. I get a text from my friend Ted one day that says, "I'M SITTING NEXT TO A WOMAN ON THE PLANE WHO IS READING YOUR BOOK AND LOVING IT."
Two days later my friend Allen emails me and says, "I was talking with this guy at a party about books and he said, 'You want to read a book that will change your life? You have to check out James L. Rubart."
The Best
As you've probably realized the best thing about a writers life, is knowing you stepped through your fears and insecurities, put your story out there, and hearing it impacted someone's life.
So whether you're a writer, or love to cook, or paint, or play music, or serve an amazing latte, don't keep your passion inside. Let it out. It's not about us in the end, is it? It's about them. Pursue the dream so you can bring your light into another's life.
James L. Rubart is 28 years old, but lives trapped inside an older man's body. He thinks he's still young enough to water ski and dirt bike with his two grown sons, and loves to send readers on journeys they'll remember months after they finish his stories. He's the best-selling, Christy BOOK of the YEAR, CAROL, INSPY and RT Book Reviews award winning author of nine novels, a speaker, branding expert, co-host of the Novel Marketing podcast, and co-founder of the Rubart Writing Academy. He lives with his amazing wife on a small lake in Washington. More at jamesLrubart.com
About The Man He Never Was
What if You Woke Up One Morning and the Darkest Parts of Yourself Were Gone?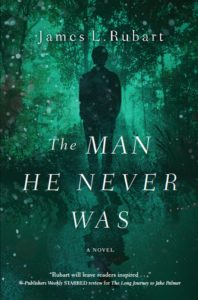 Toren Daniels vanished eight months back, and his wife and kids have moved on—with more than a little relief. Toren was a good man, but carried a raging temper that often exploded without warning. So when he shows up on their doorstep with no notice, they're shocked to see him alive. But more shocked to see he's changed. Radically.
His anger is gone. He's oddly patient. Kind. Fun. The man he always wanted to be. Toren has no clue where he's been, but knows he's been utterly transformed. He focuses on three things: Finding out where he's been. Finding out how it happened. And winning back his family.
But then shards of his old self start to rise up from deep inside—the man kicked out of the NFL for his fury—and Toren must face the supreme battle of his life.
In this fresh take on the classic Dr. Jekyll and Mr. Hyde story, James L. Rubart explores the war between good and evil within each of us—and one man's only chance to overcome the greatest divide of the soul.
Your turn: If you're a writer, what's the best, worst, or funniest moment you've had in your journey?
Tags: James L. Rubart, speculative fiction