A Writer's Life: Denise Hunter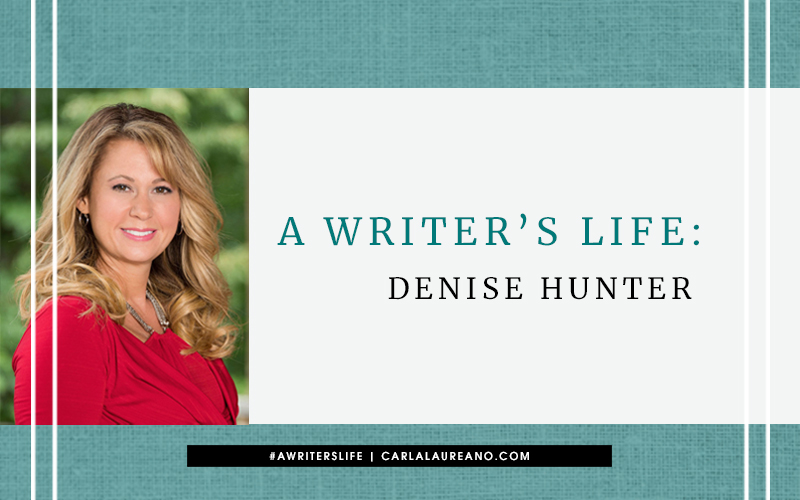 I'm delighted to welcome Denise Hunter as this month's guest on A Writer's Life. Denise is the author of over twenty-five books, and the mind behind some of my personal favorites, including A Cowboy's Touch–which should tell you something since I'm not even a real fan of cowboy romance!
Join me in welcoming Denise with her take on the writing life…and don't forget to enter the giveaway at the bottom for her newest book, On Magnolia Lane.
Top 10 Perks of Being a Novelist
By Denise Hunter
Maybe you're an author yourself and need a reminder of all the great perks of the job. Or maybe you're an aspiring author; many of these benefits apply to you already and the others will come in time—fingers crossed! Even if you couldn't write your way out of a speeding ticket, this list will give you a little peek inside the author's world and perhaps remind you of the things you love about your job. So, here we go . . .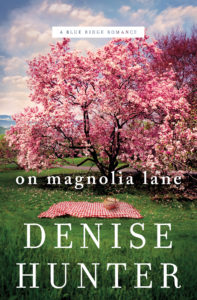 Job Flexibility One of the best things about writing for a living is that there's so much flexibility. Set my own hours? Check. Work from home? Check. Stay in my pajamas all day? Check, check. I turn in a book every six months, and if I want to take four months off and write it in two months (I do not), more power to me. In actuality I prefer a slow and steady approach, and I like to write at a local coffee shop (I leave the pajamas at home). But the point is, I get to decide. And that makes me happy.
Cover Love I get to see my name on book covers and visit my babies at the bookstore—and that never gets old.
Research Trips I love to travel, and my job actually requires it. Plus the trips are, wait for it, tax deductible. Even my husband can't fault that logic, so he tags along too—bonus. And since I try to choose settings to which my readers might like to go, I know I'm going to like it too. For On Magnolia Lane I got to visit the Blue Ridge Mountains of northern Georgia and stayed in the quaint little town of Ellijay. There was a lot of work involved (the fun kind), and maybe we got lost in the mountains, but don't worry—I used that in a book too.
Personal Growth Writing is cheap therapy. During my (so far) 33-book career, I've written about numerous issues, flaws, and obstacles I've faced—or am facing or may someday face—myself. This allows me to explore them in depth, perhaps find answers and, best of all, give others, who may also be struggling, a peek inside the healing process. Reading can therapeutic too!
Perspective There's something about standing over the top of a story and looking down on it that reminds me of God's birds'-eye-view over our lives. While I'm bringing conflict into my character's lives to stimulate much-needed growth, I'm always reminded that God is doing the same in my life.
Readers! My husband affectionately calls me his little book nerd, but a reader, he is not. So it's wonderful to connect with other likeminded people on social media. People who understand why I might be reading at, say, a hockey game. Or who understand why meeting a favorite author might give me a nasty case of word vomit. Or just people who understand that the perfect ending to any day is found between the covers of a novel. Readers are my people!
Word Play I get to play with words and tell stories—and I get paid for it. Enough said.
The Publishing Industry—I think most voracious readers are curious about the process of publishing books, from the acquisitions phase to the editorial process to the packaging and marketing. I not only get to peek inside, I get to work with a team of publishing professionals (HCCP) who are just as excited about books as I am. Win!
The Craft I'm so glad writing is a craft because that means I'll never stop learning and never stop being challenged. Because once you're not challenged anymore, boredom sets in. And boredom is not good for the creative juices, folks.
I get to work alone—mostly Now, I know this isn't a plus in everyone's column, but I'm an introvert so spending the day inside my head is actually a good thing. But if I do get lonely or stuck on my plot I have my publishing team and other authors to help me out. I've had the same critique partner (Colleen Coble) for twenty years, and we love brainstorming together. Plus, when I hit the middle of the story (and am sure this is the worst drivel ever written and my publisher won't want it, or if they do by some miracle publish it I'll get horrible reviews and maybe even hate mail) she just laughs as if I'm ridiculous and reminds me I always feel that way during the middle of every book.
Bonus Perk:
Retirement Plan I hope to write to a ripe old age, and as long as I still have my mind, I can do exactly that. Also, it's perfectly fine if my husband wants to retire to, say, Aruba. (Or, okay, more likely wherever the grandchildren are.) As long as I have a computer and an internet connection I can write from anywhere. Now that's a retirement plan I can get on board with.
Denise Hunter enjoys the perks of her job in Indiana, where she and her husband have three boys and are rapidly approaching the empty nest phase.

She is the internationally published bestselling author of more than 25 books, including "The Convenient Groom" and "A December Bride" which have been made into Hallmark movies. She has appeared on the The 700 club and won awards such as The Holt Medallion Award, The Carol Award, The Reader's Choice Award, The Foreword Book of the Year Award, and is a RITA finalist.

Denise writes heartwarming, small-town love stories. Her readers enjoy the vicarious thrill of falling in love and the promise of a happily-ever-after sigh as they savor the final pages of her books.

In 1996, inspired by the death of her grandfather, Denise began her first book, writing while her children napped. Two years later it was published, and she's been writing ever since. Her husband says he inspires all her romantic stories, but Denise insists a good imagination helps too!

When Denise isn't orchestrating love lives on the written page, she enjoys traveling with her family, drinking good coffee, and playing drums.
Tags: Denise Hunter, On Magnolia Lane