Words for Women: Fast Forward, by Cindy Kelley
September isn't even over yet and I feel as if I'm already behind on my preparations for Christmas. I haven't started my shopping or my list of what I'll bake. I haven't picked out a photo for our family Christmas card or decided if we're going to go to the five o'clock Christmas Eve service at church or the one at seven. What is wrong with this picture? Why am I seeing Halloween decorations next to the blow-up, life sized Santa Claus in department stores? There are clearance items for holiday things before the holiday has even happened! Why are we in such a rush?
We live in a fast-forward society. And women, in particular, seem to succumb to the notion that we need to hurry to fit everything into our days, our weeks – our months. And before we know it, years have gone by and then we realize we've been so crazed to get to our destination, we've forgotten to enjoy our journey.
The notion that we're traveling at break neck speed these days was never more apparent to me than when I was writing my new novel Traces of Mercy with my writing partner, Michael Landon, Jr.  Almost every project that Michael and I have done together has been a period piece – a hundred and fifty years in the past – and our new book fits right into that genre.  We set the story at the end of the American Civil War, and researched the women of that time. We found strong, courageous souls who believed in God, family and their own capability to survive. Women, like our protagonist Mercy, didn't fit in a particular mold. They were able to bend and adapt and shape themselves to their circumstance. They were feminine, soft, hard, tough, tender and heroic. They helped shape the future of our country – and they did it because they weren't in fast-forward mode.
The diaries I read of the women that lived during the Civil War and Reconstruction, spoke of sunrises and sunsets; the smell of a rainy day and the aching goodbye when a loved one went to fight a war that never seemed to end. There were accounts of a quiet dinner and a baby sleeping contentedly in a new father's arms. But it was the young woman who wrote of the upcoming holiday that touched me the most; all she wanted for Christmas was her husband home safe and sound and whole. Just like me she was making a list of things to prepare; food to bake, gifts to make.
But she ended her diary entry with something I'm hoping to learn from: I know I have much to do to prepare, but I have plenty of time as the holiday is a whole week away. God will see that I finish exactly what I need to, and truth be told, what will it matter if I'm one loaf of bread short or a gift shy under the tree? My time is too precious to whittle away worrying about what tomorrow will bring. I have today and in that I am content.
About Traces of Mercy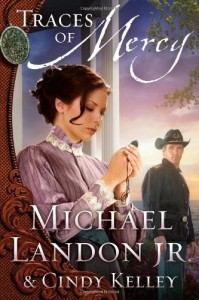 From Michael Landon Jr. and Cindy Kelley, authors of The Silent Gift and creators of the hit television film Love Comes Softly, comes an exciting historical romance set in post-Civil War, and filled with suspense and faith-building values.
At the war's end, a young woman suffers an accident that leaves her unconscious and alone. Waking with amnesia, she takes the name Mercy and wants more than anything to find out the truth of her past. But then a handsome stranger arrives, who may hold the key to everything she has forgotten. What he knows could devastate her future, and even end her life.
Written by two proven storytellers, Traces of Mercy is perfect for anyone who loves historical fiction, prairie-based tales, or just a good romance.
About Cindy Kelley
[author] [author_image timthumb='on']https://www.carlalaureano.com/wp-content/uploads/2013/09/Cindy_Kelley.jpg[/author_image] [author_info]Cindy Kelley is an author and screenwriter who worked with Michael Landon, Jr. on the Love Comes Softly television film and co-wrote the novel The Silent Gift with Landon.[/author_info] [/author]
Tags: Cindy Kelley, Love Comes Softly, Michael Landon Jr., The Silent Gift, Traces of Mercy