CHRISTIAN FICTION SCAVENGER HUNT: STOP #2 (PURPLE TEAM)
Welcome to the Christian Fiction Scavenger Hunt! I am a part of TEAM PURPLE, and this is Stop #2.
If you're just joining us, there are two loops—pink and purple—and they begin at Lisa Bergren's site and Robin Hatcher's site for stop #1 for either stream. If you complete either the pink loop or purple loop, you can enter for a Kindle Paperwhite and the 17 autographed books from that loop (by having the Secret Word clues together). If you complete BOTH loops, you can enter for the Grand Prize of a Kindle Fire HDX and ALL 34 autographed books (by adding up all the Secret Numbers). So write everything down as you go—if you run out of time, you can return to it later.
The Hunt begins at NOON Mountain time on April 16 and ends at MIDNIGHT Mountain time on April 19, 2015, so you have 3.5 days to complete all 34 stops, enter all individual, pink, purple, and Grand Prize contests and maximize your chances for a prize! Winners will be announced on April 20, 2015.
ALSO, please don't use Internet Explorer to navigate through the loops. Some web sites won't show up using IE. Please use Chrome or Firefox—they're better anyway!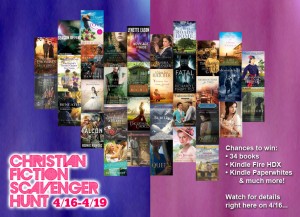 I'm so excited to introduce you to my guest for the Scavenger Hunt, Jody Hedlund. Beloved equally for her wonderfully detailed and romantic historical novels and her inside-look-at-publishing blog, Jody is the author of a dozen (!) best-selling novels and novellas. Without further ado, it's my pleasure to hand over the blog reins to Jody…

About Jody
Jody Hedlund is a best-selling and award-winning author who loves fairy- tales and happily-ever-afters. She makes her home in Midland, MI with her husband and five children. When she's not writing another of her page-turning stories, you can usually find her sipping coffee, eating chocolate, and reading.
About An Uncertain Choice
Due to her parents' promise at her birth, Lady Rosemarie has been prepared to become a nun on the day she turns eighteen. Then, a month before her birthday, a friend of her father's enters the kingdom and proclaims her parents' will left a second choice–if Rosemarie can marry before the eve of her eighteenth year, she will be exempt from the ancient vow.
Before long, Rosemarie is presented with the three most handsome and brave knights in the land. But when the competition for her heart seemingly results in a knight playing foul, she begins to wonder if the convent is the best place after all. If only one of the knights–the one who appears the most guilty–had not already captured her heart.

Find An Uncertain Choice at: Amazon | Barnes & Noble | Christianbook.com
---
And here's her EXCLUSIVE content, that you'll only find in this hunt!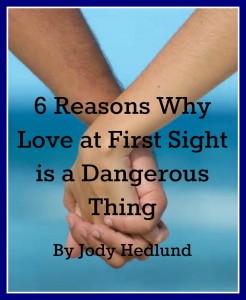 Nowadays we've become a fast-paced culture. We rush to work. We run through the drive-through for fast food. We race from one activity to the next. And we hardly stop to breathe.
Unfortunately with such a fast pace, we've become an impatient culture. We want everything to happen right away. We want overnight shipping. We want instant video streaming. And we demand the highest speed internet.
Can it also be said that we also expect that love should come quickly and easily? Do too many of us who've been born and bred in this fast-paced world think love-at-first-sight is the new norm?
Perhaps it's time for us to evaluate some of the reasons why love at first sight can be a dangerous thing:
We don't have time to test character. When we rush into a relationship, we may not take the time to really get to know the person, especially their inner qualities. It's easy for anyone to put up a facade for a short while, but it's only after time and trials that a person's true colors shine through. If we don't take the time to test another's character, we may get into difficult or even dangerous situations.
We get caught up in feelings. Everyone enjoys the physical rush of a new relationship. And it's all too easy to get caught up in those tingling wonderful emotions and let them dictate our actions instead of operating with sound logic and thinking. That magical quality of love, while nice, can lead to rash and sometimes foolish decisions.
We neglect a solid foundation of friendship. When a couple jumps into a relationship based on feelings and physical attraction, that often comes at the detriment of forming a friendship first. Without a friendship to glue a relationship together, we're left with a shallow relationship when the feelings and physical attraction fades.
We let infatuation dictate our commonalities. It's all too easy to put aside our own dreams and values during our giddy in-love phase. But when the reality of life takes over, we don't want to find ourselves with someone who doesn't respect our desires or values or someone who doesn't enjoy the same activities that we do.
We overlook potential problems. Every couple will have challenges at some point, disagreements, conflicts that need addressing. But when we fall fast and furiously in love, we're more prone to overlook problems, to minimize differences, or to make excuses for behavior. We gloss over issues or let them pile up until eventually they seem insurmountable.
We have a false euphoria. The love-at-first-sight mentality makes us think our relationship is special and different than others. That then leads us to believe that our love is invincible, that it's meant to be, and that it will last forever without much effort. Such euphoria ignores the hard work that it takes to make a relationship last for the long haul.
For more thoughts on how chose a mate wisely, Jody Hedlund's medieval YA, An Uncertain Choice is an entertaining but thought provoking way for young people to begin to evaluate dating and choosing a spouse. A free study guide that corresponds with the book is available on her website at jodyhedlund.com.
---
Alright, Carla here…I'm back! Here's THE SCAVENGER HUNT SKINNY:
Before you go, make sure you WRITE DOWN THESE CLUES:
Secret Word(s): isn't
Secret Number: 3 – because Beneath the Forsaken City is my third published novel
Got 'em down?? Great! Your next stop is #3, Jody Hedlund's site. Click on over there now. And if you get lost, a complete list of the loop with links can be found at our mother host's site.
But before you go, I'm offering a special giveaway for THIS STOP ONLY. All you have to do to be entered to a chance to win is sign up to receive my quarterly newsletter…and since I give away a $25 gift card each quarter to members of my list ONLY, you'll get another chance to win something cool too!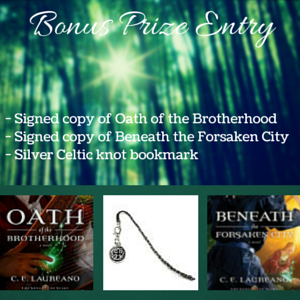 Tags: An Uncertain Choice, Christian Fiction Scavenger Hunt, Jody Hedlund