Interview With Author Regina Jennings
Please join me in welcoming my friend and fellow author, Regina Jennings, to my blog today! I met Regina at the ACFW conference in 2012 outside the appointment area, just minutes before I was scheduled to pitch Five Days in Skye to the editor who would eventually buy my book. She listened to my opening, asked me a few questions, and within minutes had helped me craft a better and more exciting hook. I like to say I owe a little of that book's sale to her and that fortuitous meeting! So it's a great thrill to be hosting her on my blog today.
Carla: Welcome, Regina! Tell us a little about your newest book, Caught in the Middle.
Regina: You bet! Anne Tillerton has been hiding away as a buffalo hunter in Indian Territory. When the depot's cook runs off, Anne must find her or take to cooking herself, but on the train to town she runs into complications.
Nicholas Lovelace knows commercial success, but he's not sure what to do when his train gets held up. Thankfully, the bandits are thwarted by the last person Nick ever expected—Anne Tillerton from back home in Prairie Lea. By the time the robbers are dealt with, Nick owes the eccentric woman his life.
Anne finds the runaway cook, but the woman flees again and leaves Anne with her infant son, forcing her to turn to the only person she knows in town. Nick doesn't know what to do with a baby and being seen with a rough-around-the-edges woman isn't helping his reputation. Will the two of them find the child's father before their partnership changes the course of their future?
Carla: Ooh, a female buffalo hunter! That's not a character we see often in historical fiction. What inspired this particular novel?
Regina: More than anything I wanted to see Anne Tillerton overcome the trauma of her past. Her bravery allowed another woman to have a happily-ever-after, so Anne deserved one of her own. I started from that point and asked myself what could make such a change possible. In other words, "What is the worst thing that could happen to her?" Given that Anne wants to live unencumbered on the prairies, I couldn't think of much worse than for her to be stuck with an abandoned child. She knows nothing about raising infants and the only person she knows in town is Nick Lovelace. Nick loves babies as long as someone else is holding them and they can't spit up on his silk vest. And if Nick values his wardrobe, you can bet we're going to force Nick out of his comfy office and into the wilderness where he'll be as helpless as Anne is in the city. Good times!
Carla: I'd say so! I can't wait to read this one… and it's on my shelf just waiting for a free weekend. What can we look forward to next from you?
Regina: My next series starts this December with the release of A Most Inconvenient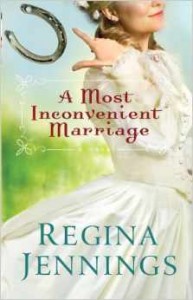 Marriage. This series is set near the end of the Civil War in the Ozark Mountains. The first book stars a nurse named Abigail Stuart who feels like her only friend in the world is the sweet but gravely wounded patient Jeremiah Calhoun. Fearing he won't survive, the Confederate soldier's last wish is that Abigail look after his sickly sister at home. Marry him, return to his horse farm, and it'll be hers.
Abigail takes him up on his offer and moves to Missouri after his death, but just as the family learns to accept her, the real Jeremiah Calhoun appears—puzzled to find a confounding woman posing as his wife. Jeremiah is determined to have his life back to how it was before the war, but his own wounds limit what he can do on his own. Still not fully convinced Abigail isn't duping him, he's left with no choice but to let the woman stay and help—providing that she give up her claim that she's his wife and doesn't ruin his chances with his childhood sweetheart.
"Inconvenient" barely scratches the surface of what the two of them feel about each other, but maybe they'll find some common ground.
Carla: Oh, now that is most inconvenient. I'm looking forward to reading that one too. Now, on to our lightning round questions. Which do you think is more important: to entertain or teach/inform?
Regina: My primary purpose is to entertain. If my stories don't entertain, then I've let my readers down. Now, obviously a good story involves realistic characters who have flaws, who face challenges and who learn from those challenges. So I force my characters to learn something. Whether or not readers learn something is up to them.
Carla: What three items are essential to your writing process?
Regina: My laptop, my research books, and my secret stash of Twix, Reeses, and Nerds.
Carla: What does your writing cave look like?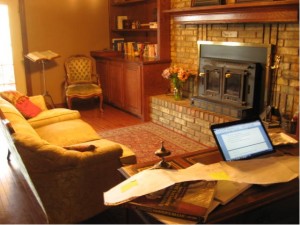 Regina: This is my office on its best day. During the winter there are coats thrown all over the couch, firewood stacked on the hearth, and the pink hamster cage somewhere nearby, lest Ginger get chilly. It's not a very quiet place to write but I like the French doors for light and the fireplace for warmth. Plus with all those bookshelves, I have my resources nearby.
Carla: Most hated chore?
Regina: I can't match socks. There. I've admitted it. There are so many variables—color, size, density, wear, strength of elastic, etc., etc. It seems like no two ever match perfectly.
Carla: What's the weirdest thing currently in your freezer?
Regina: Maybe it's not strange that our freezer is full of deer, quail, pheasant, and pork sausage, but what is unique is that the male members of my family (with friends) have done all the "harvesting" and processing themselves.
Carla: Ah, so you and your heroines have more than a little bit in common! Thank you so much for joining me today and giving us a little peek into your most recent release!
About Regina
Regina Jennings is a homeschooling mother of four from Oklahoma. She enjoys watching musicals with her kids, traveling with her husband, and reading by herself. When not plotting historical fiction, she plots how she could move Highclere Castle, stone by stone, into her pasture and how she could afford the staff to manage it.
Regina is the author of Caught in the Middle, Sixty Acres and a Bride and Love in the Balance. Her novella An Unforeseen Match is also included in the collection A Match Made in Texas. She loves to hear from readers at her website, www.reginajennings.com, and on Facebook, Twitter or Pinterest.
About Caught in the Middle
She Wants the Freedom of the Open Plains.
He Wants the Prestige of a Successful Career.
Neither is Ready for What Comes Instead. 
The train to Garber, Texas, is supposed to bring life's next victory to Nicholas Lovelace. Instead, it gets held up by robbers who are thwarted by the last person Nick ever expected–Anne Tillerton from back home in Prairie Lea.
Anne's been hiding away as a buffalo hunter. She's only in town to find their runaway cook, but the woman flees–leaving Anne with her infant son. With Nick the only person Anne knows in town, the two form an unlikely team as they try to figure out what to do with the child.
But being in town means acting and dressing for polite society–and it's not going well for Anne. Meanwhile, Nick's work is bringing new pressures, and being seen with a rough-around-the-edges woman isn't helping his reputation. Caught between their own dreams, a deepening relationship, and others' expectations, can the pair find their way to love?
Order Caught in the Middle: Amazon | Barnes & Noble | ChristianBook.com
Tags: Caught in the Middle, historical fiction, interview, Regina Jennings, romance