Interview with Author Cara Putman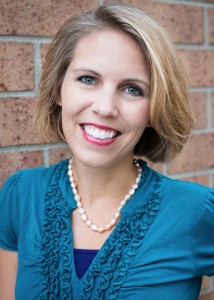 I'd like to welcome today author, speaker, and multi-tasker extraordinaire, Cara Putman! I was first met Cara through a program she co-taught at my very first ACFW conference and since then have come to know her as an amazingly prolific (and busy!) author. I'm thrilled to have her here today to discuss her latest release, Shadowed by Grace.
Carla: Welcome, Cara! Shadowed by Grace, involves a part of World War II history with which most people are not familiar: that of the Allies' Monuments, Fine Arts, and Archives program. Can you give us a little background on that division?
Cara: The Monuments Men had a unique role in saving Western Civilization. Since WWII was the first war with wide-spread aerial bombardment, European and American art experts quickly realized they needed a strategy to try to save the grand cathedrals and other buildings as well as the art they contained. Then they realized art was disappearing into Nazi Germany and knew they'd need a strategy for reclaiming the lost art, too. I found the work of these soldiers who weren't really soldiers fascinating. The more research I did, the more fascinated I became. Such a small group of men who did so much good in a very non-traditional role.
Carla: How did you come about the idea for this story? Were you specifically looking for lesser-known facts of World War II?
Cara: I have deep respect and admiration for the men and women of the Greatest Generation, and I love telling their stories. Because of that, I'm always on the lookout for new ideas that will spark into a book. In the summer of 2010, I stumbled across a nonfiction book, Monuments Men, and was introduced to this small band of soldiers. Their stories captured me…and the art added a unique twist to the story. It became a story that burned in my heart to tell.
Shadowed by Grace focuses on some of the endeavors the Monuments Men undertook in Italy. I knew little of the Italian front and discovered a diary that gave voice to the Italian experience. That added with what I was learning about the efforts of the Monuments Men to save priceless monuments and paintings convinced me this was a story I wanted to write. Then I discovered the heroine and her search, and it became part of me. I love this story and am thrilled by the early reactions I'm hearing.
Carla: Part of what makes this story so unique is the fact that the heroine is a photojournalist (actually one of my own areas of interest!) Not only was photojournalism a new discipline at the time, but few women were allowed to see the front lines. What kind of challenges did that pose for you while writing the book?
Cara: I wanted to create a unique job that a woman could have on or near the front lines. If she could be an artist in her own right, all the better. That made war photojournalist the perfect role for Rachel. I found it fascinating to research the women who filled those jobs. Everything from their dress to how they worked in the field had to be explored. Once I found a couple key books, it made it easier. But I didn't know much about war correspondents until I started writing this book. It's a good thing I love history and getting the details right.
Carla: The war correspondent details, with all the associated challenges for a woman in that position, was one of my favorite parts of the book. What can we expect from you next?
Cara: My next project is a Christmas WWII novella collection with Tricia Goyer and Sarah Sundin entitled Treetops Glisten. I love Tricia and Sarah and their WWII novels, so it was a joy to work with them on this collection. We got on the phone and started brainstorming a collection of stories that would fit with the type of WWII novels we each write. "Should be near a big city but have a small town feel." "Probably located in the Midwest." "Needs war industry and a university." I started laughing as I listened, because they were describing Lafayette, Indiana, where I live.
It was fun to work in collaboration on everything from where they would live, to family timelines, to sibling order, etc. Writing is so often solitary, but writing this collection allowed us to step outside of that. Sarah came out in September to do some on-site research. Tricia will be here in February, so it will be fun to take her to the candy shop my heroine works at, drive her by the Turner home, and more.
Carla: Okay, on to the lightning round . . . What three items are essential to your writing process?
Cara: My laptop, good research books, and almonds.
Carla: Favorite activity for procrastinating when you should be writing?
Cara: Facebook and other online media. Publishers expect writers to have an online presence, but I love the interaction!
Carla: Most hated chore?
Cara: Laundry – it never ends!
Carla: What is currently on your desk?
Cara: Textbook for a new class I'll teach this winter, textbooks for the classes I'll take, and information for blog tours for Shadowed by Grace!
Did I mention she was busy? Thanks again for joining us today, Cara… and readers, don't forget to scroll down for details on Shadowed by Grace and another great opportunity to enter my Winter Warm-Up Giveaway! ***Contest is now closed***
About Cara
Cara C. Putman graduated high school at 16, college at 20, and completed her law degree at 27. An award-winning author of seventeen books with more on the way, she is active in women's ministry at her church and is a lecturer on business and employment law to graduate students at Purdue University's Krannert School of Management. Putman also practices law and is a second-generation homeschooling mom. Putman is currently pursuing her Master's in Business Administration at Krannert. She serves on the executive board of American Christian Fiction Writers (ACFW), an organization she has served in various roles since 2007. She lives with her husband and four children in Indiana. You can connect with her online at:
Connect with Cara: Website | Facebook | Twitter | Pinterest | Goodreads
About Shadowed by Grace
Rachel Justice is desperate to save her dying mother. She doesn't want to leave her, but she accepts her newspaper's assignment to travel to Italy and photograph war images. No one knows her photography is a cover and that Rachel is really seeking to find the father she never knew, hopeful to get some help with her failing mother. Dedicated to her mission, Rachel is focused on completing it. Soon, though, she finds her priorities and plans changing when she is assigned to Lt. Scott Lindstrom, on mission as a Monument Man. Their meeting will have far-reaching consequences. Will this derail her plans? Will she ever find her father? Is her faith enough to carry her through?
Read the first chapter here!
Purchase Shadowed by Grace: Christianbook.com | Barnes & Noble | Amazon
Tags: Cara Putman, historical fiction, Shadowed by Grace, WWII