Fictional Friday: Review of "A Most Peculiar Circumstance" by Jen Turano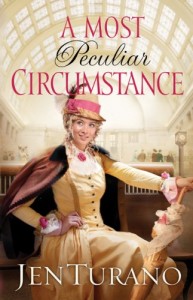 From the back cover:
Miss Arabella Beckett, defender of the down-trodden women of America, is returning from her travels in support of the women's suffrage movement when she makes a simple offer of assistance to a young woman in need. But things go sadly awry, and both ladies soon find themselves in dire need of rescue. Arabella, always loath to admit she needs help, is particularly reluctant to receive assistance from the arrogant, narrow-minded knight in shining armor who shows up just in time.
Private investigator extraordinaire Mr. Theodore Wilder is on an assignment that began as a favor to his good friend Hamilton Beckett, but swiftly evolved into a merry chase across the country. He is already in a less than pleasant mood, and when Hamilton's sister turns out to have radical ideas and a fiercely independent streak, he's at his wit's end.
Much to their chagrin, Theodore and Arabella's paths continue to cross when they return home to New York, but the most unusual feelings beginning to grow between them certainly can't be anything serious. When the trouble Arabella accidentally stirred up in her travels follows her home and threatens her very life, the unlikely couple must face the possibility that they might have landed in the most peculiar circumstance of all: love.
My review:
Jen Turano has certainly raised the bar with her second novel, A Most Peculiar Circumstance. All the hallmarks of her first book are here: a delightful writing style reminiscent of the general market regencies I enjoy, quirky characters with a propensity for trouble, and plenty of amusing secondary characters. However, there's an ease to her writing in this book that shows Turano has really settled into the series, as well as a lot of thoughtful character development.
Don't get me wrong. I loved Eliza and Hamilton in A Change of Fortune, but Turano has given Arabella and Theodore more depth and internal conflict, which I thoroughly enjoyed. It also lent a slightly more serious tone to this book. But let's put it in perspective: this is still a light-hearted, laugh out loud sort of novel. After all, the heroine manages to get put in jail while garishly dressed like an opera singer, and then tries to hide from Theodore when he comes to bail her out. (No, I didn't make that up. Yes, that's really in there. Do you see why you need to read this book?)
The added element of danger and suspense was another welcome departure from the typical historical novel and gave the characters a chance to show their mettle in desperate situations. I like authors who can deal with serious situations while keeping an element of humor in the mix, and Turano does this seamlessly.
Those who enjoyed the first book in the Ladies of Distinction Series will be delighted with this sophomore effort, but I will not be surprised if she finds a legion of new followers with A Most Peculiar Circumstance.
Read my review of Jen Turano's first novel, A Change of Fortune, on Goodreads.
Buy now at Amazon, Barnes and Noble, or ChristianBook.com.
Tags: A Most Peculiar Circumstance, historical, humor, JenTurano, romance, romantic comedy