Are you ready to (Facebook) party?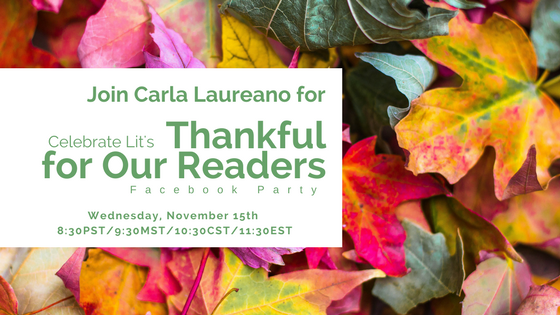 November is the time when our thoughts turn toward togetherness, celebrations, and most of all, gratitude. That's why I'm happy to be participating in Celebrate Lit's Thankful for Our Readers Facebook event! It's going to be two days of awesome authors talking about books with lots of chances to win fun prizes, including a subscription to Kindle Unlimited. (And the grand prize includes a signed Advance Reader Copy of The Saturday Night Supper Club… hint hint… so if you didn't get picked in my last giveaway, you've got another shot!)
I hope you'll all join me on Wednesday, November 15th at 8:30 a.m. Pacific/9:30 a.m. Mountain/10:30 a.m. Central/11:30 a.m. Eastern. I'm going to be giving some first glimpses at characters in The Saturday Night Supper Club, background info on my research process, and an exclusive excerpt from the story! Hope to see you there!
To go to the Facebook event page, click here, and don't forget to look for the full list of amazing authors in the pinned post.
(Feel free to share this post, the event page, or the image so you can bring your friends!)
Tags: Facebook party, giveaway, Saturday Night Supper Club, Thanksgiving