Are You Ready To Be Starstruck?
I've got big news today! If February and Brunch at Bittersweet Cafe feels too far away, I have something that will help you endure the wait– a bonus book!
I'm thrilled to announce the next novella in my Discovered by Love series, which follows reluctant hearts to interesting places where they're sure to find their perfect match! Without further ado, here's the first glimpse of Starstruck, coming on November 1, 2018.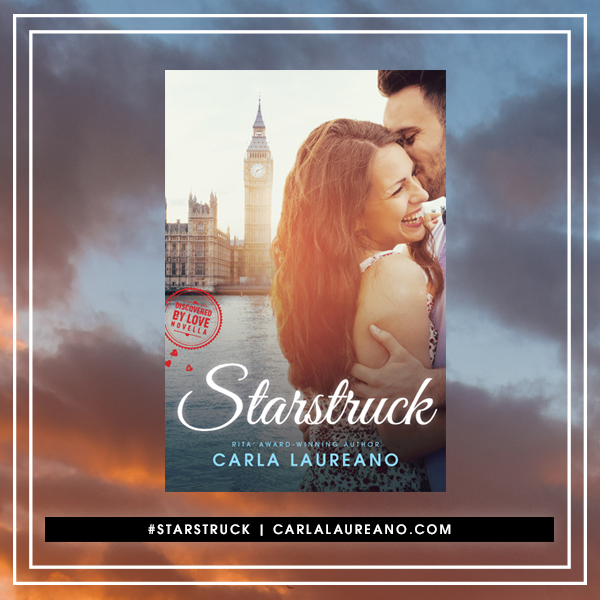 Having your book turned into a TV series is every writer's dream come true…
Unless your leading man happens to be your ex.
Novelist Christine Lind has achieved her lifelong dream—a string of best-selling books and a cable-TV adaptation about to go into production. But on her way to London FanFest for the cast reveal, disaster strikes: their leading man is injured in a motorcycle accident… and his replacement is the one person she hoped she'd never seen again.
Nick Cleary has clawed his way to recognition as a Hollywood actor, but it's long past time he get the chance to show he's more than a pretty face and a chiseled set of abs. His big break comes in the form of a juicy lead role in a new steampunk fantasy series. There's just one catch—casting has to be approved by the author… a woman he once devastated through his own youthful stupidity.
Christine is the last person to be starstruck by the handsome heartthrob, but as the clock ticks down to the cast announcement and Nick races to show that he's really changed, she begins to wonder if there's more to her ex than his Hollywood persona. Except now the consequences of being wrong no longer apply only to her career… but also to her carefully guarded heart.
Starstruck will be available wherever e-books are sold on November 1, 2018, so be sure to mark your calendars and watch for the release day announcements! You can also join my newsletter to get reminders. As a thank you, I'm giving away the first book in the series, Jilted, for free!
If you're excited about this book, please share with the buttons below and help spread the word! You'll have my eternal gratitude and also help make sure I can fit more of these fun novellas into my wider publishing schedule.
Tags: Discovered by Love, London, Starstruck