A Writer's Life: I Can Author Bio with Beth K. Vogt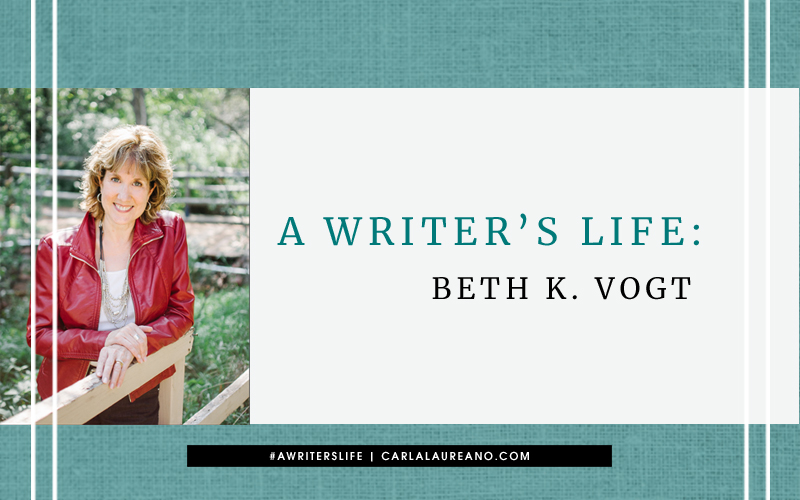 I'm thrilled to welcome one of my favorite writers and my good friend Beth K. Vogt to the blog today. Her women's fiction debut, Things I Never Told You, releases tomorrow, and believe me, it's one you're not going to want to miss! I had the privilege of endorsing this book, so I'll let that be my intro:
"Beth K. Vogt has long been a favorite for romance, but she finds her true niche with her first women's fiction entry, Things I Never Told You. Engaging, sympathetic, and almost painfully honest, this story of buried family secrets and hidden trauma will stay with you long after the last page is turned. I'm impatiently awaiting the other titles in this series. "
Don't forget to scroll down to the bottom and enter to win a copy of Things I Never Told You!
I Can Author Bio
I have 49 author bios.
That's right, 4-9. Forty-nine. And no, I do not write under a variety of pen names. I did that once and I have a horror story to go with it.
But that's another blog post.
Why, you may be wondering, would I have 49 author bios?
That's what this blog post is about.
The short reason is: I learned ve-ery early on in my writing career to never get rid of an author bio.
The long reason is: I learned that lesson after I had written author bios and gotten rid of them … and I had to recreate my author bio too many times. And every time, I thought, "I've already done this! Why am I doing this again?"
Sure, author bios change over time – we write more books, or we final for an award (and win, we hope!)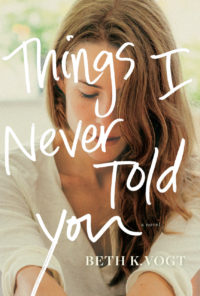 – or we might change publishers, but we're still us. I'm decades into this writing gig, and I'm still me: Author Beth. K. Vogt – and the fundamentals of my author bio haven't changed, especially because I've become known for the saying, "God's best is often found behind the doors marked 'Never.'" — which often shows up in my author bio now.
But I'm getting ahead of myself.
Here's  what I'm recommending you do: Start a Word document titled Author Bios, date it 2018, and start keeping a running file of your Author Bios that you store in Dropbox. (You do have Dropbox, right? Or Evernote?) Each year, you'll change the date of the document in the title.
My first bio in my Word Doc dates back to my nonfiction book, Baby Changes Everything: Embracing and Preparing for Motherhood after 35. That book released in 2007.  I have five bios related to this book before I transition to fiction. That makes 44 fiction bios.
Here's the other thing: there are basically two types of author bios: a long bio and a short bio. Whenever you add a new bio, at the end of it, put the word count in parenthesis, like this: (50). That way, when you do a guest post and the person requests a bio with a specific word length, you can skim your Word doc and find your most recent bio of that length. If you have something close to the length needed, you can tweak it, add or delete words – but then you have a new author bio, right? So update your list – and remember to put the word count at the end.
Also, if you are a regular contributor for a certain blog(s), put that author bio in the Word document, too. That way you always have it in case they (or you) lose it. If you have a media page on your website with a long and short bio – and you should – put those author bios in this Word document, too. Safe, not sorry, right?
I'd love to know how many author bios you compile in your Word document … and remember, you have to start somewhere and sometime, so start today!
Beth K. Vogt believes God's best often waits behind the doors marked "Never." Both a Christy Award and an ACFW Carol Award winner, Beth is the author of ten contemporary romance novels and novellas. Her first women's fiction novel, Things I Never Told You, releases May 2018 from Tyndale House Publishers.