#2MinWritingTip – The Secret Lives of Characters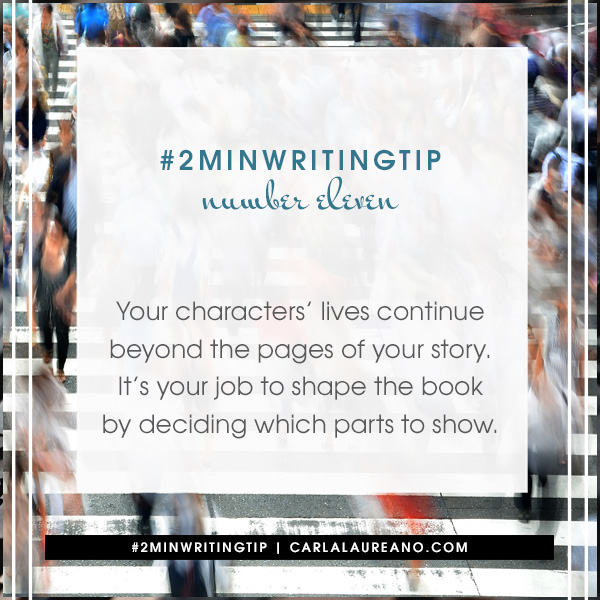 I attended a workshop last year with a writer who is an excellent instructor and a brilliant marketer. I nodded along enthusiastically until he said, "Characters aren't real people. They're vehicles for conflict."
While I understand what he was saying, one of the biggest mistakes that writers–especially beginning writers–can make is thinking of their characters as dolls they can move around their stories at whim. If you're not careful, they begin to seem like props in a morality story, possessing no life of their own, but existing solely to make the author's point.
I subscribe to the opposite theory of character development. When I envision my characters, they have vivid internal landscapes and lives that extend far beyond what's actually shown on the page. It's my job as an author to choose which parts of those lives to show in order to bring together a cohesive storyline. What I show on the page determines the prominent theme of the book.
We employ this kind of selective storytelling every day. I might say, "This was the worst day ever!" and then go on to talk about how my car wouldn't start, my dishwasher overflowed, and I sat on my favorite sunglasses on the way home. However, I could also say about this same day, "This was the best day ever!" because I finished a big project, someone in front of me at Starbucks paid for my drink, and I found out my favorite niece was coming to visit. The day was exactly the same, but which incidents I choose to tell support the main assertion of my story.
So let your characters have their secret lives; it's up to you which ones you want to share with the world.
[bctt tweet="When I envision my characters, they have lives that extend far beyond what's actually shown on the page. It's your job as an author to choose which parts of those lives to show in order to bring together a cohesive storyline. #2MinWritingTip #writingtips"]
Tags: characterization, plot, theme