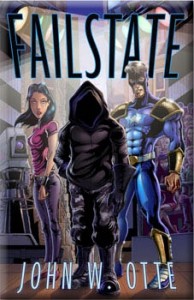 For as long as I can remember, I've always produced speculative fiction stories.
My career started in the fifth grade, when I began writing/drawing a series of comic books about an alien who occasionally came to Earth to visit my cousins and me. I absolutely intended for these books to someday be published and become international bestsellers. Yes, I dreamed big when I was ten! Now, though, I'm well aware that no publisher would ever touch what was an exercise in creative plagiarism from sources such as He-Man, Spiderman, and Voltron, one starring poorly drawn stick figures.
From there, I moved on to the written word, creating a sort of odd wish-fulfillment story that starred where my virtual doppelganger went about defeating terrorists and traveling to distant planets with the assistance of his girlfriend and the alien computer that was accidentally implanted in his brain at birth.
Don't look at me like that. It was brilliant, I tell you. Brilliant!
Okay, so maybe not. But it seemed like each time I started a new project, it was always speculative fiction. Whether it was aliens or fantasy warriors or angels engaged in spiritual warfare in a cheap Frank Peretti knock-off, it seemed like I couldn't get away from speculative fiction. Oh, I tried my hand at other genres, such as a formulaic teen detective book, or a Biblical fiction novel about Joseph Caiaphas. But I keep coming back. I can't get enough speculative fiction, whether I'm reading or writing.
I think part of the reason why is because speculative fiction allows us to not only escape our familiar world, but it also allows us to examine it in a new and unique way at the same time. For example, I wouldn't have considered what "personhood" actually is until Captain Picard wrestled with the question as it pertained to Lieutenant Commander Data in The Measure of a Man. Is it inevitable that the created will always turn against their creators? It's a question that the Mass Effect videogame series raises. We should use our God-given talents to work together to serve each other. At least, that's what the novel Failstate seems to say.
Oh, wait. That last one was mine. Sorry. I got carried away.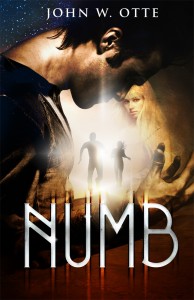 But you get the idea. And the same thing is true for Christian speculative fiction. Sure, we can learn deep spiritual truths from a contemporary romance or a cozy mystery, but there are limits to what we can truly explore in a realistic setting. It's when we step into the fantastic that we can delve into incredible depths.
If you want a fascinating examination of what's more important, strict adherence to your culture's rules or your civilizations very survival, read Amish Vampires in Space (seriously!). If you want to explore the meaning of the fall and what might have been if it hadn't happened, you can't do better than C. S. Lewis's Perelandra. Or if you want to see why a mixing political power with the Church's mission is a bad idea, check out Numb by…
Oh, wait. I did it again, didn't I?
In the end of C. S. Lewis's classic The Voyage of the Dawn Treader, a group of human children from our world are talking with Aslan, the Christ-figure from the land of Narnia. And in this conversation, Aslan reveals why the children were allowed to have adventures in Narnia in the first place. He says, "This was the very reason why you were brought to Narnia, that by knowing me here for a little, you may know me better there."
That, I think, is the best way to summarize why I love Christian speculative fiction so much. I get to journey through incredible realms that boggle my imagination and, at the same time, I'm challenged in my faith and I grow.
So I have a question for you: What's the most interesting thought or idea you've encountered in a Christian speculative fiction book?
Connect with John: Website | Facebook | Twitter
[author] [author_image timthumb='on']http://www.carlalaureano.com/wp-content/uploads/2014/03/JohnWOtte.jpg[/author_image] [author_info]John W. Otte leads a double life. By day, he's a Lutheran minister, husband, and father of two. He graduated from Concordia University in St. Paul, Minnesota, with a theatre major, and then from Concordia Seminary in St. Louis, Missouri. By night, he writes unusual stories of geeky grace. He lives in South St. Paul, Minnesota, with his wife and two boys.[/author_info] [/author]
About Numb
Save the girl…or his soul?
Crusader is numb. He feels neither emotion nor pain, a divine gift that allows him to be the Ministrix's best assassin. Whether it's heretics from within or heathen from without, Crusader is the sword in the True Church's hand. And if he remains obedient to his superiors, he will be able to let go of his guilt.
But then he's ordered to kill Isolda Westin. It shouldn't be a problem. A target is a target. When Crusader sees Isolda's image, though, something strange happens. He experiences a moment of panic, a wave of emotions, the first he's felt in as long as he can remember.
In that moment, he realizes he can't fulfill his mission. He can't kill Isolda Westin, even if it means he'll be condemned as an enemy of the Ministrix.
Soon Crusader and Isolda are on the run. Will they be able to learn why the Ministrix wants Isolda dead? Or will they both face the harsh justice of the "True Church"?
Order Numb: Amazon | Barnes & Noble | Marcher Lord Press
Comments
One Comment • Comments Feed
Sparksofember says:

I agree. It's the very reason I love spec fic, too. I was just thinking about Perelandra the other day – it's a book I read 20 years ago but I still carry it within me. And so much of the Narnia series affects my daily thinking. Books with so much truth in them that they draw you closer to the Bible – that's powerful!