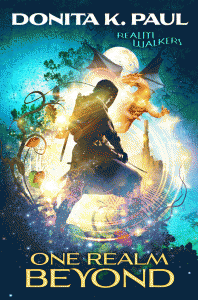 Today, I'm pleased to welcome bestselling author, Donita K. Paul, to talk about One Realm Beyond, the first book in her new Realm Walkers trilogy.
Carla: Welcome, Donita! I've seen some wonderful early reviews of One Realm Beyond complimenting you on your well-drawn characters and light-hearted writing, though there are some more serious themes at work as well. Do you work on theme first, or do you let the characters have their way?
Donita: I never focus on theme as I get started on a new book project. Usually after the midpoint, I discover a common thread, then I am aware of it reappearing or I notice a place where I can subtly push the thought. I hardly ever tell anyone what I've designated as the theme. It's cool to see what the Holy Spirit impresses on people when I step out of the way. Characters attack me, move into my house, hang around when I'm busy. The characters in One Realm Beyond made me laugh and urged me to go shopping.
Carla: I need to spend some time with them, too, then. What inspired this particular novel?
Donita: Two things: Christopher Columbus and the TV show Babylon 5. I was thinking about Columbus and what if the world really was flat. And the shapershifter in Babylon 5 became a race of dragons gifted in disguise.
Carla: Oh, that sounds like fun. What can we look forward to next from you?
Donita: I'm finishing the second book of this series, which will come out 1/2015. Title is Two Renegade Realms. And I'm keeping a rein on my right-sided brain as I work on several picture book ideas, an early reader, a sequel to Two Tickets to the Christmas Ball, and an old love story I want to publish as an eBook to go with my lonely Taming the Wild Wind. It's lonely because it is my only self-published book. It has lots of readers, so I think it deserves a little sister.
Carla: Clearly you have no shortage of projects to keep you busy. But if you could choose any other job than your current one (writer or day job), which would you choose?
Donita: Children's Librarian, oh the joy! Surrounded by books all day, helping patrons choose good books, reading my favorite picture books to little kids. What fun!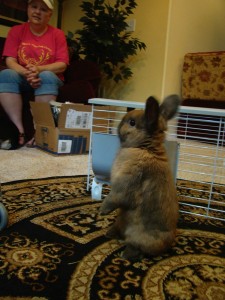 Carla: Dog, cat, or other pet?
Donita: I grew up with dogs, cats, and parakeets.
Now I live in what I call my hobbit hole. It's the basement of my daughter's home. I don't have the energy to clean up all the scattered bird seed and feathers. Five out of five people in the house are allergic to cats. They have a dog upstairs. We don't need another. So I got a pet I've never had before, a rabbit. He is a dwarf Netherland lop, but his ears didn't lop. He was destined to be bopped and removed from the gene pool. So I rescued him. He sits in his hutch by my writing chair. Or he plays around the basement. I am surprised at how entertaining he is and how much company he gives me. Also he gives sweet bunny kisses when he sits on my shoulder unless he gets too close to the ear. Somehow the earlobe is a temptation he cannot resist. Ouch!
Carla: What job do you think prepared you best for the life of a writer?
Donita: Teaching, and the younger the better. I taught younger elementary grades in schools. The organization, simplification, and presentation of material are crucial in telling a good story. Ordering material so the learner gets small concepts, so that later more complex concepts can be incorporated is the same as building plot, developing character, establishing motivation, and most important applying the learned material to other circumstances. A teacher or a writer crafts her words to take truth down to the most important kernel so the reader can deal with the important central element without having to sift through excess baggage. And a boring teacher has dull students. Not their fault. A writer presents her story to excite the reader into completing the tale and carrying the theme with them after the book is closed.
Carla: I bet your kids loved you as a teacher, though you get to reach just as many or more now through your books! Thank you so much for joining me and for sharing some insight into your writing process.
Donita is including a copy of One Realm Beyond in my speculative fiction giveaway that will close in a few short weeks, so don't forget to visit the entry widget at the bottom of this page for another chance to win! ***Contest is now closed***
About Donita
Donita K. Paul is a retired teacher who still loves to dwell in the universe of the young. These days she opens portals to fantastic worlds for readers of all ages. She uses her keyboard as a conduit to the important truths in life, thanking God for the opportunity to continue learning and serving Him.
She lives in Colorado Springs with her family and a dog, two turtles, and a rabbit. Her daughter is also a writer of the speculative genre and her son is a doctor of English. Together they venture into literature, knowing family is there to protect their backs.
Connect with Donita: Website | Facebook
About One Realm Beyond
Cantor D'Ahma waited his whole life for this day. Born with a gift to jump between worlds, the young realm walker is finally ready to leave his elderly mentor and accept his role as protector and defender of the realms. But mere hours after he steps through his first portal, Cantor discovers that his job will be more dangerous and difficult than he ever imagined. The realms are plagued with crime and cruelty, and even members of the once-noble Realm Walkers Guild can no longer be trusted. To make matters worse, his first assignment—finding a dragon to assist him on his quest—has led him to Bridger, who is clearly inept and won't leave him alone. With the help of his new friends Bixby and Dukmee, Cantor must uncover the secrets of the corrupt guild before they become too powerful to be stopped. But his skills aren't progressing as fast as he would like, and as he finds himself deeper and deeper in the guild's layers of deceit, Cantor struggles to determine where his true allegiance lies.