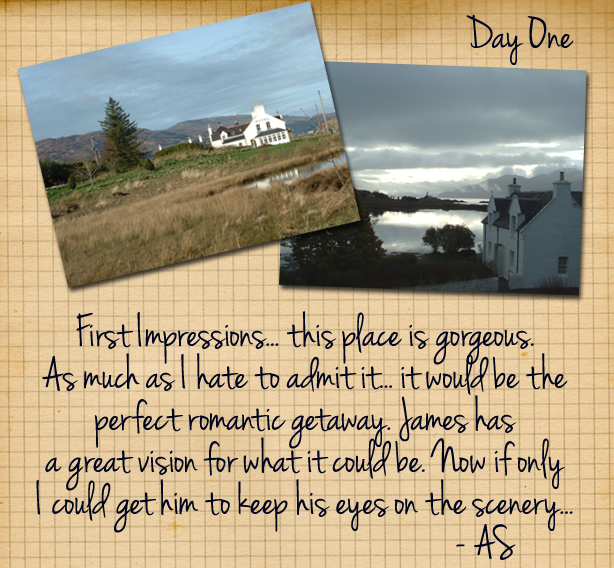 They rounded the bend, and the water stretched out before them, a gleaming, protected bay of blue dotted with tiny islands. A backdrop of mountains framed Isle Ornsay, the larger island in the Sound of Sleat from which the village had drawn its name. Its charming lighthouse stood sentinel in the bay, a slender column rising from the craggy island, a splash of white against the dark scenery. - From Five Days in Skye
In almost every review I've gotten, a reader has mentioned how the descriptions of the scenery in the book made them want to go to Scotland. Well, first, allow the writer in me to say: yippeeeeee! Of course, I hoped to bring the beauty of the Isle of Skye alive. The Scotophile in me is thrilled that I could introduce more people to one of my favorite places on earth.
Years ago, my husband and I finished off a tour of Scotland with several days on the Isle of Skye. I was immediately taken–breath-taken, maybe–with the scenery, the peace, the sense of…groundedness of the island. I defy anyone to travel to Scotland and not feel the weight of history and the raw natural beauty. Of course I had to convey Andrea's love-at-first sight moments with Skye, and now I'm thrilled to be able to share it with you.
If you followed in Andrea's footsteps (or tire tracks?) here's what you would see: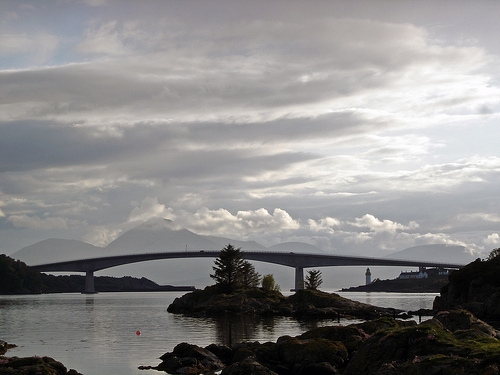 Andrea is taken by the view of the Skye Bridge… my reaction completely! I love bridges. I don't know whether it's the juxtaposition of the man-made with natural beauty or just the romantic idea that you're passing into another world, but I particularly like this one. It always strikes me as a bit of modern art in the country.
Photo by Bernd S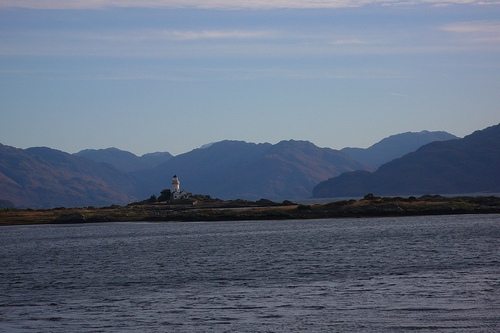 I set the MacDonald Guest House in the village of Isleornsay, which overlooks the Sleat Peninsula. This is a gorgeous shot of the Isle Ornsay lighthouse, which you could see from the location of the hotel.
Photo by CaptainOates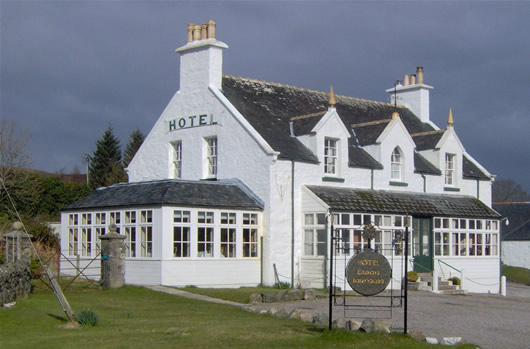 And last but not least: the inspiration for the family hotel, the Hotel Eilean Iarmain (Isle Ornsay Hotel). While I've taken some liberties with its architecture in the book, this lovely traditional hotel does have an excellent restaurant which draws both locals and visitors, not to mention an incredible view of the water.
Come back tomorrow to see what Andrea experienced on her second day in Skye…